On my last birthday, I bought 4 baby chickens. I bought them out of the backseat of some lady's car. They were only $2.50 each.
They were so cute; all fuzzy and yellow.
But I'll tell more chicken stories later, this one is about the time I took one of them to Walgreens.
One Saturday, it was take-a-picture-with-your-pet-day. For free..You have to understand I did not pay for this. So, we go home, I chase down a chicken and take him to Walgreens to get his picture made.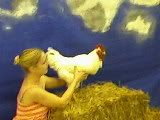 Here I am setting him on the backdrop. He was so good and didn't try to run!
When I first walked in the store, you can imagine the surprise of everyone there. The photogropher was especially excited, he said he never took a picture of a chicken before.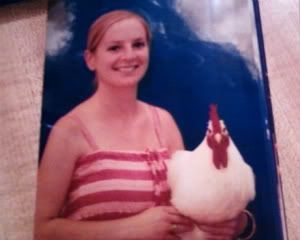 This is my favorite. The chicken is looking dead ahead.
And by this time, there was quite a crowd. Because, you see, this chicken is a rooster...and he crows...alot. Even in the middle of Walgreens, he did it twice to make sure everyone heard him.
Here's his close-up. He's so handsome! I was so proud.
Then on the way home, he pooped on me. It was great.
(Sorry for the picture quality, I'll get better)